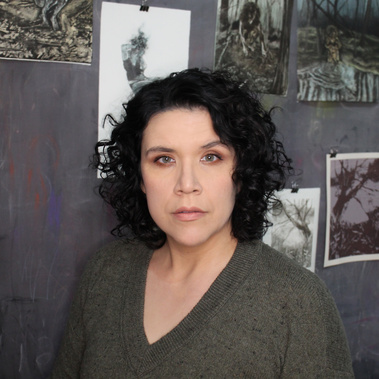 Biography
Ashley Cloud was born in Texas in 1987. She discovered her passion for art at a young age and went on to study painting and printmaking. In the years following, she worked as a data analyst and although art was not the central focus of her life at this time, it was never far from her thoughts. Precipitated by the birth of her son in 2016, Ashley returned to art making with a renewed sense of purpose and passion.
Her practice primarily focuses on psychological identity around gender, race, and motherhood. Her work is rooted in realism, often referencing humankind's relationship to nature.
She is a member of the Red Lake Band of Chippewa Indians. Ashley lives with her husband and 2 children in Meadville, Pennsylvania.
Education
2011 BFA, Painting and Printmaking, Edinboro University of Pennsylvania
Solo Exhibitions
2008 Hold Still, Bates Gallery, Edinboro, PA
Juried Group Exhibitions

2022
The Unknown Nature of Being, Tubac Center of the Arts, Tubac, AZ
14th Annual National Juried Exhibition, Willard Arts Center, Idaho Falls, ID
2021
98th Annual Nicole & Harry Martin Spring Show, Erie Art Museum, Erie, PA
Forging Ahead, Brew House Association, Pittsburgh, PA

2020
97th Annual Nicole & Harry Martin Spring Show, Erie Art Museum, Erie, PA
2018
44th Annual October Evenings, Heeshen Gallery, Meadville, PA
Women's Work, Ashtabula Arts Center, Ashtabula, OH
Drs. Jay and Mona Kang Art Show, Barber National Institute, Erie, PA
2011

32nd Annual Paper in Particular, Sidney Larson Gallery, Columbia, MO
2010
Michael V. Gmitter Scholarship Finalists Exhibition, Bruce Gallery, Edinboro, PA
2009
Chimera, Erie Art Museum Annex, Erie, PA
35th Annual October Evenings, Heeshen Gallery, Meadville, PA
More Human Than Human, Bates Gallery, Edinboro, PA
Annual Student Show, Bates Gallery, Edinboro, PA
The Monotype - Drawing in Ink, Frans Masereel Centrum, Kasterlee, Belgium
Inky Paper: Prints from the Snowbelt, Sweetwater Center for the Arts, Sewickly, PA
2008
Drawing and Painting Invitational, Bates Gallery, Edinboro, PA
Chimera, Erie Art Museum Annex, Erie, PA
2007
Miniature Show, Bates Gallery, Edinboro, PA
2006
Chimera, Erie Art Museum Annex, Erie, PA
Awards
2018
MCA Award, 44th Annual October Evenings, Heeschen Gallery, Meadville, PA
2009
T.A.M Award for Printmaking, Bruce Gallery, Edinboro, PA

Award for Excellence, 35th Annual October Evenings, Heeschen Gallery, Meadville, PA
Publications
2009 Chimera: Journal of Art and Literature-Vol 7

2008 Chimera: Journal of Art and Literature-Vol 6
2006 Chimera: Journal of Art and Literature-Vol 4